Venturing out of the house of the first time in seven days, the streets are eerily still. Much fewer cars than normal, and fewer people too, many of them wearing a mask. Almost all cafés, pubs, restaurants and non-essential shops are closed, and it's the odd kebab shop or Machine Mart still open that sticks out like an anomalous dare, rather than the other way around for a Saturday afternoon.
The queue at Tesco's is quiet and orderly, everyone observing the regulatory 2m distancing demarcated by strips of hazard tape on the floor, as though this was a perfectly normal thing to do.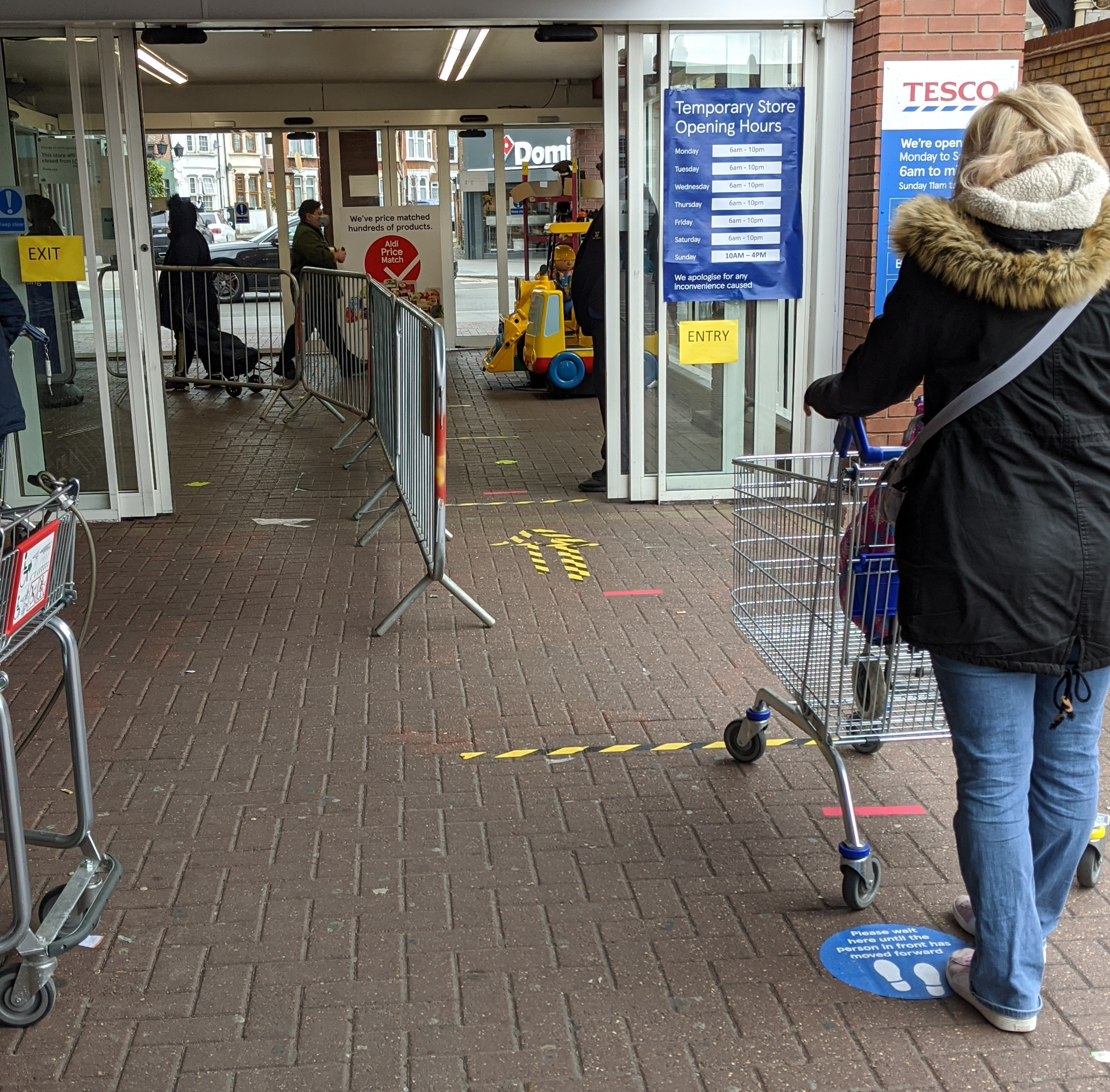 The stocks appear to have been mostly replenished, although toilet paper remains as elusive as advertised in the news. The flour and pasta shelves have also been decimated, although I manage to snatch some of the last packs of orzo, inexplicably spared. Perhaps even a global pandemic can't quite reconciliate customers with rice-shaped pasta.
Having failed to acquire any ginger there, I spot some in a corner shop on my way home. After a rapid mental calculation, I decide that I have exposed myself enough for one outing and that I don't need it enough to justify entering a poky store and making contact with an additional human being behind a counter. Engaging with this line of reasoning ends up being a lot more unnerving than the failure to bring back any ginger.
Self-isolating itself wasn't the challenge. I had a cough, but it seems more likely to have been a cold than Coronavirus. The sun shone for most of the week and we gratefully enjoyed our little back garden. Taking over the shared childcare duties while continuing to work wasn't easy, but we made it work.
No, the hardest part is to follow the news cycle and realise how belated the ever stricter rules were to come into place, culminating in the three leaders of the crisis, including the Prime Minister himself, going into self-isolation after having found themselves infected.
It is to relax while watching the brilliant Rolling Stones Olé Olé Olé!: A Trip Across Latin America documentary on Netflix, only to find yourself mildly terrified of the health impact of a crisis of this magnitude on South America and many other developing nations.
And to accept that we are still far from the worst and yet still reeling to understand the implications of this invisible, intangible, almost abstractly mathematical though nonetheless ubiquitous danger.