Radiohead has described In Rainbows as "almost embarrassingly minimal", and it is. With Hail to the Thief, they had already shown their desire to move past the deconstructionist experimentations of Kid A and Amnesiac.
Rather than digging further in its beautiful alienation, the band has grown more intimate and, it seems, more serene. Although they keep asking questions, they have stopped answering them in greatly elaborate, complex, musically astonishing ways. The electronic experimentations, the unreal effects, the improbable rhythms and harmonies, all have been toned down into calmer, saner songs.
Songs. In place of the abstract soundscapes of Kid A or the audio-conceptual experiments disguised as songs on Hail to the Thief, we are presented here with the most song-oriented Radiohead album since The Bends. Magnificent songs, of course, crafted with the same genius as ever.
More humble, almost disturbingly, In Rainbows doesn't feature pieces as imposing as Pyramid Song, Morning Bell or Everything in its Right Place; instead, it aligns ten songs of the highest quality, as beautiful and lasting as songs can be.
It is likely that no work will ever compare with Kid A and Amnesiac, because they symbolized a powerful internal struggle that is now absorbed and digested.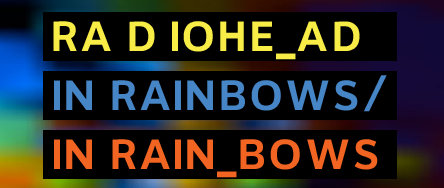 Once it has left its chrysalis, after mysterious, unpredictable and violent transformations, a butterfly cannot go back, and has to be appreciated for its maturity and elegance alone.