Rest is for the dead, so after the crazy week-end in Tōkyō and a week of shortened nights (partly to feed this blog), I took the nightbus at 23:50 on the following Friday (May 25th). Destination: Tōkyō again!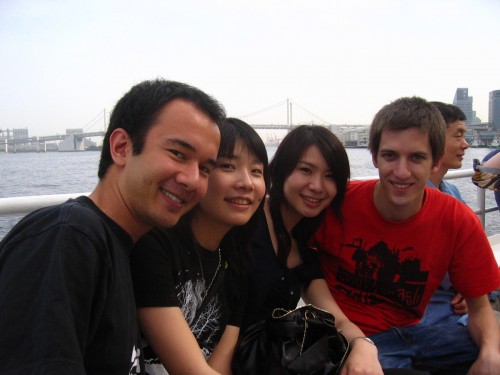 I said it before, Tōkyō is mind-blowing, but I wouldn't have gone back so soon if it weren't for some friends from Sweden meeting up there. The booking of the trip was quite an adventure: picture a Japanese-only website, with all the important informations on images (i.e. not translated by Google), and which requires you to input your name in kanji (or alternatively, thank God, in katakana). With the help of my colleagues, it only took about an hour, after which I proudly printed a cryptic sheet in Japanese that I hoped would get me on the right bus.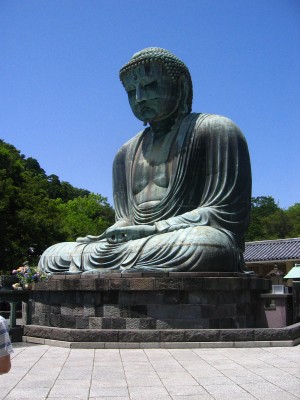 It did. Eight hours later, the engines stopped and I was back in Tōkyō. Still sleepy, I got myself a coffee and dived in the metro network to get to Shinagawa where I was to meet Yumeko (ex-korridormate from Sweden) and Marco (swiss german friend, who was also in Sweden with us) — you might want to check out his beautiful pictures from this week-end. We went together to Kamakura, near which we visited the Kōtoku-in temple, famous for its daibutsu (Great Buddha), a 13-meter-tall bronze statue built around 1252.
(← parenthesis: François Rouiller, the talented Swiss science-fiction artist, winner of both the Grand Prix de l'Imaginaire, for his colorful 100 mots pour voyager en Science-Fiction, and the prize of the most elegant mustache, visited Kamakura recently and he drew a beautiful watercolor painting of Daibutsu. He kindly offered to share it here — thanks! Here is is: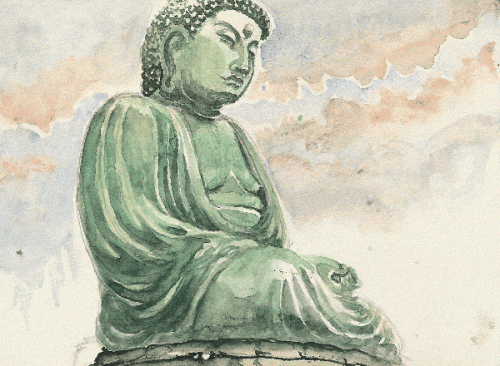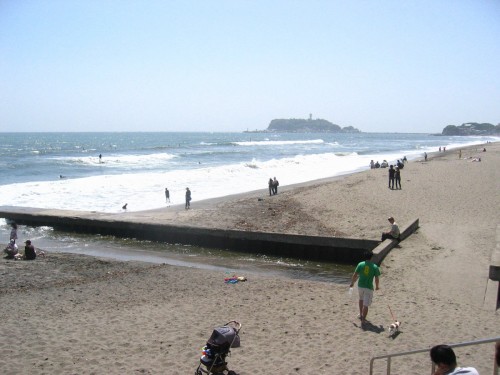 Then, we successfully re-enacted a sequence of Hitchcock's The Birds, with the help of gigantic sea birds who were even more eager than we were to devour our onigiris (balls of rice wrapped in nori, some kind of seaweed). Which is a real shame, because the beach was lovely, all sand and rolling waves, entertaining Japanese surfers and sailing-races. The first time we saw a proper beach, by the way, as most of the time Japanese cities usually eat the shore with harbor facilities, when they don't simply build on the sea. A greedy growth that makes for funny surprises like Yumeshima Island which, on Ōsaka's map, is marked "under construction".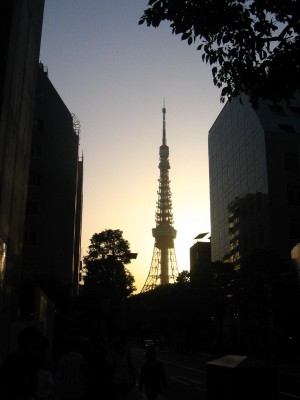 Back to the story, we metro'd our way back to Tōkyō to meet Kyoko (another Japanese friend from Sweden) and Robin (an EPFL dude, who had also lived one year in Sweden, though in Stockholm). Don't ask why but apparently, there is some kind of natural Sweden–Japan progression that many have followed (including kukuli). It was particularly amusing when we met a Swede on the Tōkyō Tower and started chatting in Swedish; I bet our international pseudo-Swedish group must have puzzled him!
The Tōkyō Tower, by the way, is the Japanese Eiffel Tower. Granted, it does not look as retro, but it's a few meters taller. However, it seems smaller from a distance because of the city surrounding it. Once again, a 337-meter-high steel tower in a seismic active area sort of amounts to erecting an ice hotel on the side of a volcano, but hey, this is Tōkyō.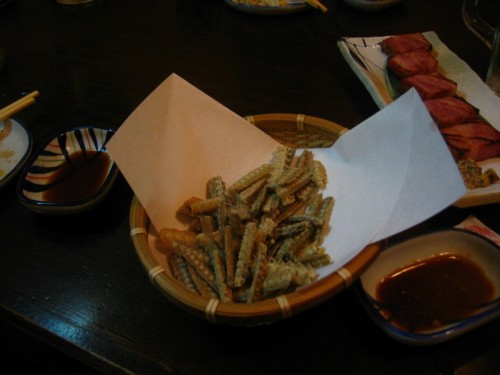 We watched the night fall on the city and the streets light up from the Tower before leaving for Kawasaki (a nearby city, of merely a million inhabitants) to meet yet another Japanese friend from Sweden, Yuki. Our team finally complete, we were ready for a pleasant orgy of Japanese food. I don't recall all the dishes, but crispy eel bones and raw scallops were among the curiosities.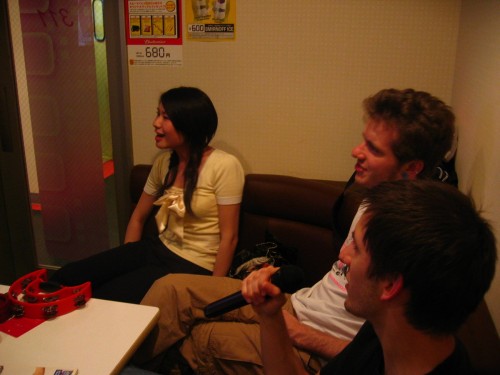 After that, what could possibly make this evening even more (stereo)typically Tokyoite? Yes! Karaoke! Just like in the movies, you can rent a private room and have your own singing party; it was, of course, a hell of a lot of fun (thanks Yumeko & Kyoko)! We even gave a try at Kaze Wo Atsumete, by the great Japanese band named Happy End (also found on the soundtrack for Lost in Translation)… Hopefully, it won't be as clunk by the end of my stay in Japan!
Before we all went to squat at Yumeko's, we stopped by the supermarket. Note that it was almost 3 o'clock in the morning. There is no way to describe how cool it is to be able to buy half a dozen of eggs at four in the morning when you've just finished watching The Return of the King (Long Edition). Even on the week-ends. The Swiss meme saying that "Sunday is the Lord's Day and the city shall be dead" should be killed. Seriously.
Sleep.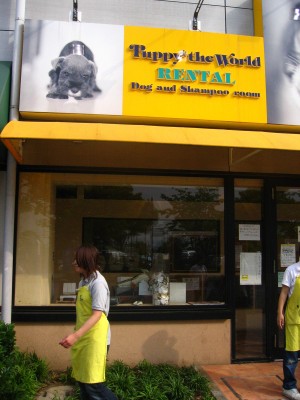 And breakfast and off to Odaiba, a large artificial island in Tōkyō Bay, linked to the city by the impressive Rainbow Bridge. Nice trip by boat-bus on the Bay. There we ate donburi (a bowl of rice topped with meat and other stuff), discovered that a dog-renting shop is no longer science-fiction, nor is a restaurant with a dog menu, watched the sun set on the Bridge from the beach and took the monorail back to the city.
Coffee in Ginza, rāmen (noodles, basically) for diner in Shinjuku, and back on the bus at 23:30. That was Sunday evening.
8:30, Monday morning, in quick succession: get off the bus, metro, home, shower, metro, walk and get to the office right on time at 10 o'clock. Who needs an optimal planner anyway?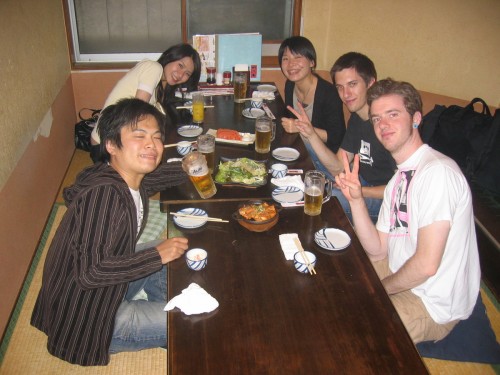 Another intense week-end, but for completely different reasons. A very social, happy gathering with friends whom we hadn't seen in almost two years and who could guide us through the intimidating maze of the Japanese culture. Another Tōkyō entirely from the frenetic, postmodern one I visited the previous week-end; more comprehensible and welcoming.
I am not sure yet which one I like best.