Un épisode en anglais cette fois. Les prochains alterneront entre français et anglais.
---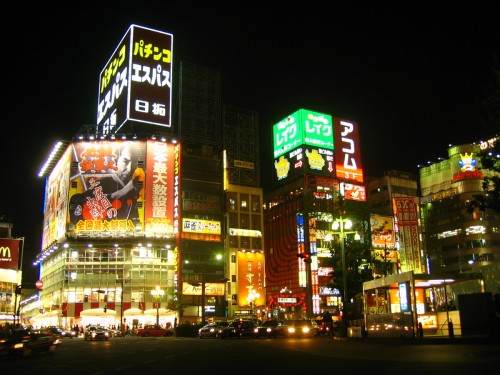 Initially, I hoped to have enough time to maintain my Japan diary both in French and English. Alas, there is not enough coffee in the world to allow me to sleep little enough for that, so I will instead try to alternate with posts in French and in English.
No later than five days after I arrived in Ōsaka, Japan, and two days after I started work at NEC, our team was sent to Tōkyō for the yearly NEC Technology Forum held on Thursday 17. The hidden message in this is, of course, a free trip to the capital city, and because our boss was so kind to find another conference about Information Retrieval for us on Friday, we could stay there over the week-end!
Wait, read again. We went there for work, and working we did. The Forum was simply fascinating. The Conference was rather interesting as well. I hope I can blog about it in my next post, but I want to figure out the NDA issues first.
So let's talk about Tōkyō.
Tōkyō is, in essence, the most amazing city I have ever visited.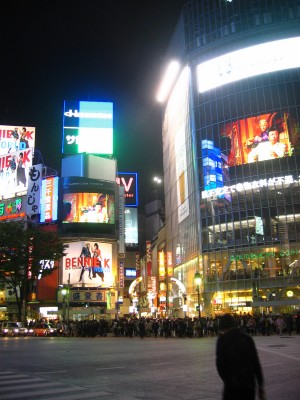 There is really no way to convey all the impressions flowing in one's head while watching the swarm of heterogeneous passerbys walk across the main crossing in Shibuya. You can watch Lost in Translation as many times as I did, you can read Marxy's four years' worth of blogging, but you will still only get a vague approximation.
We (being Bao-Lan and me) walked around the city a lot and popped our head out of the metro in most of the major locations, mostly silent, eyes wide open in surprise, amazement and amusement. Our Japanese coworkers were surprised of how much we managed to see in only two full days (and two evenings), but we mostly breezed through various places, recording impressions for later consumption and analysis.
Which, once properly decanted, will, too, be the object of a post.
The Shinkansen is the most efficient and popular way to travel long distance in Japan. In appearance, it looks roughly equivalent to the French TGV. In practice, it feels more efficient, smoother and more comfortable. In other words, you are not penalized even if you are not a legless cripple. Efficient because it only takes about two hours and a half to cover over 500 kilometers that separate Ōsaka from Tōkyō, with multiples stops in between (including Kyōto and Nagoya). Unlike its French analogue, the Shinkansen seems to travel full speed most of the way, including through or along cities and villages.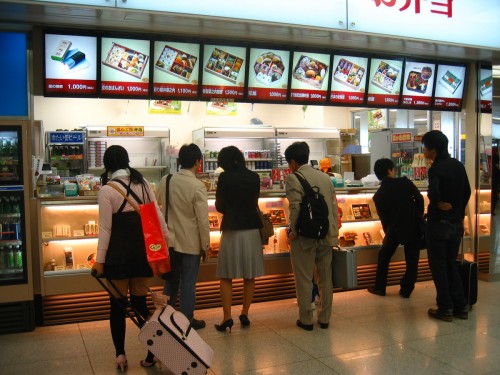 Like most of the Japaneses, we bought a Bentō at the Shin-Ōsaka train station, for eating on the train. Those boxes contain a full meal of rice, vegetables, meat, or whatever you saw in the faithful plastic reproduction that you chose and pointed at before saying "kore kudasai" ("this please"). Cold (you can warm it up), but tasty and cheap — usually less than 6.50 Euros. And with a more polished presentation than the main dish in most European restaurants.
After the Forum on Thursday, we walk around Omotesandō with a few colleagues and then to Shibuya, which has been the heart of the youth life in Tōkyō for the past three decades. The famous crossing, seen in so many movies and advertisements, the people, a mix of suits and ties and mini-skirts and pink hair and pointy cowboy boots. We returned there to eat on Friday evening, probably because of the attraction of such a exuberant symbol of contemporary Japan.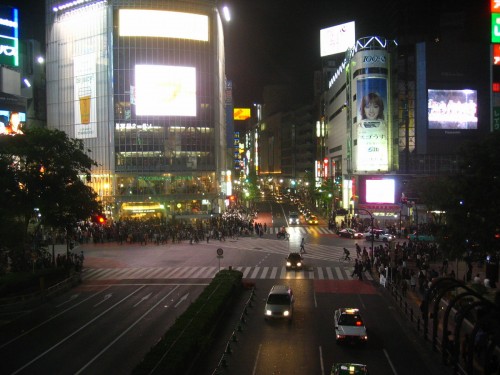 The ward has also given its name to a musical genre, shibuya-kei, a variety of Japanese pop characterized by a mishmash of influences including French 60's pop, rock and experimental fusion. The name does not reflect the geographic origin of the artists, but only the place where their popularity was exacerbated. To honor this style I am particularly fond of, I went to the local HMV (large music store) to get myself I, by the Buffalo Daughter.
Of course, Shibuya is merely one of the many facets of Tōkyō.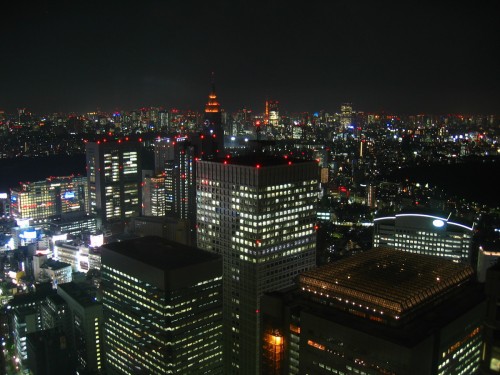 Shinjuku is another. More stoic, angular and tall, with its cloud-reaching skyscrapers and long streets connecting them. We looked for the Metropolitan Government Building, got sort of lost on the way — streets have no name, remember? — including inside Shinjuku's train station, which somehow felt larger than Lausanne. The twin towers of the government building overlook the whole city and you can get on top of the 45 floors for free, which we did.
The nightscape was smashing.
The city extends its lights in all directions. Trains glide by like neon snakes. Tall towers rise all around. Light displays move and blink to tear darkness in a random dance.
My pilgrimage continued at the Park Hyatt Hotel, where most of the "action" of Lost in Translation takes place. Although we couldn't get into the bar at the 52nd floor without risking to have to buy an orange juice worth a month of our salary, I still felt like I entered fiction by visiting this place. Sofia Coppola's movie is one of the reasons that made me want to experience Tōkyō and Japan. Now I do.
We still had two full days left after that.
Read the rest of the story in the next part (to come soon).